With temperatures this chilly, it's tempting to cancel all social plans and hole up inside with the TV as your only companion. Unfortunately, this way of living can leave you feeling lonely and isolated during a season when the lack of sunlight may already have you down. Chances are, some of your friends are dealing with these same feelings. Lift everyone's spirits by hosting a night of nourishment — for souls and bellies, alike. Read on to see how to do it.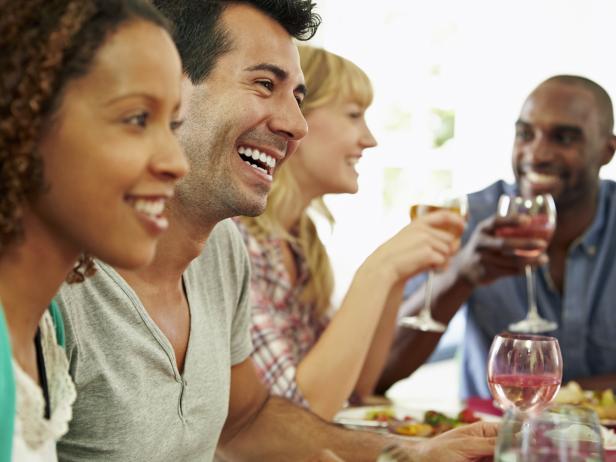 483347837
Group Of Friends Sitting Around Table Having Dinner Party
Photo by: monkeybusinessimages
This gathering is meant for connection and fellowship, so honor that idea by keeping your guest list small. A smaller crowd will likely make you and your guests feel more comfortable and relaxed.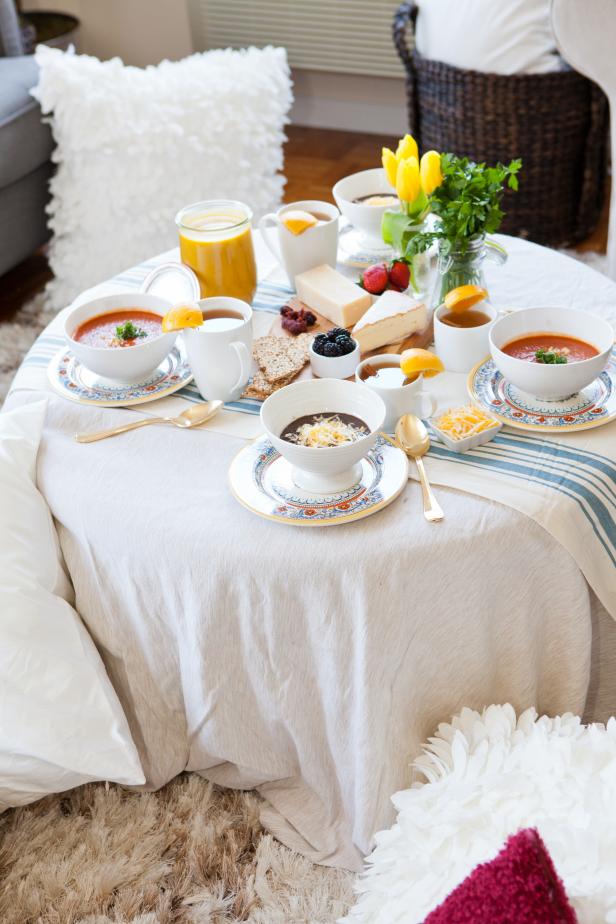 When prepping your home for the night, think cozy rather than fancy. Get out your fuzziest blankets and pillows, and light your favorite winter-scented candles.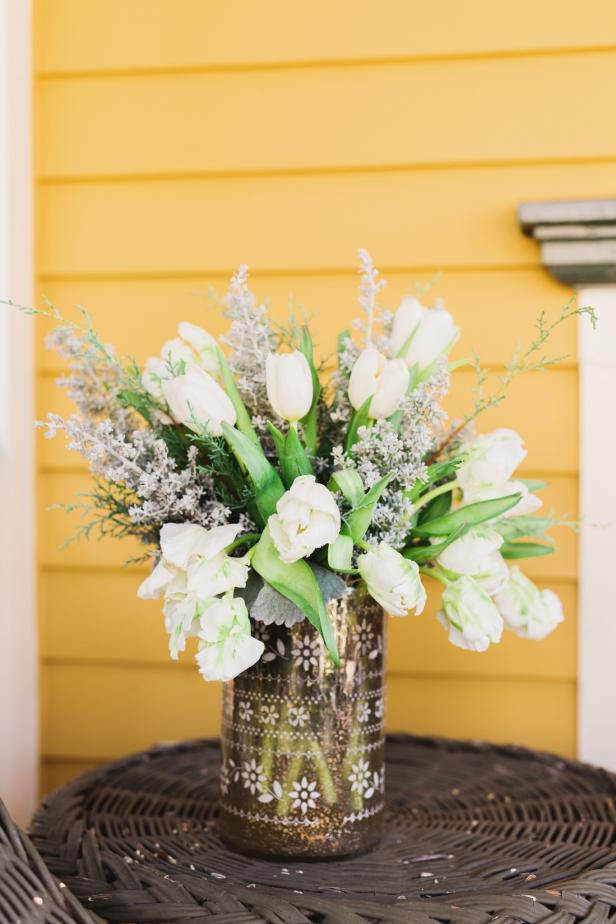 Parrot Tulips
White and green parrot tulips are very versatile and can be used to to create formal, casual, country or high design looks. For a classic holiday touch, pair white and green parrot tulips with dusty miller. The small touch of dove grey will break up the green and white and also introduce a rich texture.
Photo by: Flynnside Out Productions
Flynnside Out Productions
Brighten the atmosphere with a fresh flower arrangement. Friends suffering from cabin fever will appreciate the thoughtful touch. 
Get the Fireplace Roaring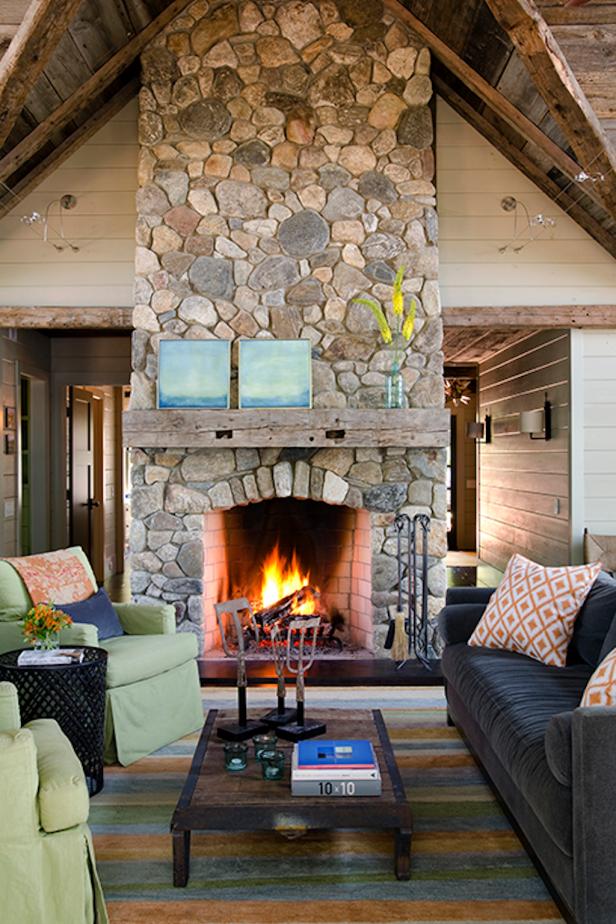 Tall, Rustic Fireplace in Cozy Living Room
The architect created a tall, grand space for the living room. To make the tall space feel cozy, all ceiling planes were covered with barn board and reclaimed beams. What really makes this space amazing is the massive fireplace, anchoring the room. With all those natural tones, the client didn't want the space to be all neutral, so a colorful rug became the starting point to build the palette, bringing in green chairs for fun.
Photo by: James R. Salomon Photography
James R. Salomon Photography
If you have a wood-burning fireplace, get a fire started before guests arrive. Stack firewood within easy reach to keep the fire going the remainder of the night.
Greet Guests With a Cold-Weather Cocktail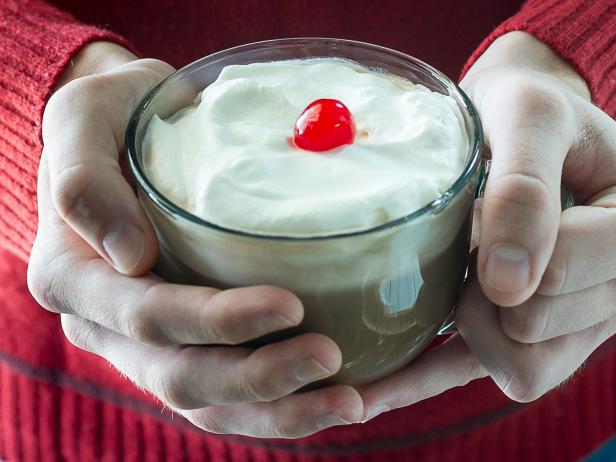 Chocolate Covered Cherry
You will be surprised at how much this cold weather cocktail tastes like your favorite chocolate covered cherries. Pour a hot cup to chase away the chill.
The walk from the car to the front door can be a doozy on a frigid winter night. Take the chill off by immediately greeting guests with a toasty cocktail.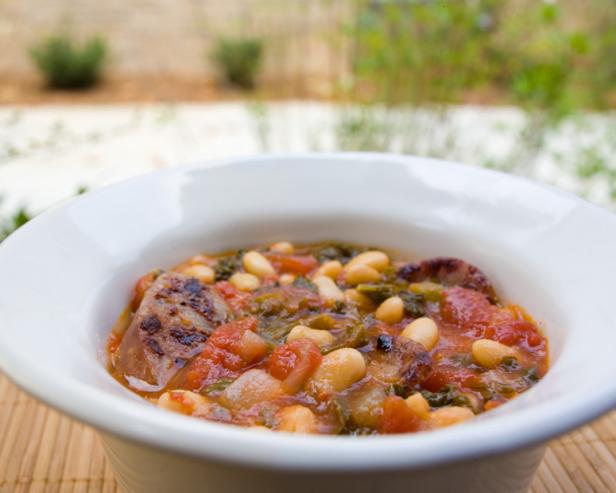 Wholesome, hearty vegetable soup with garden-fresh ingredients
Adding white beans to this 10 vegetable soup recipe adds color, texture and a great dose of protein. Photo by www.silvermanphoto.com.
Serve (Healthy) Homemade Bread

Sprouted grain breads are nutritious, flavorful and easy to digest.
Nothing pairs better with soup than freshly-baked bread. Offer friends a healthy take on the comfort food with our sprouted wheat bread.  
Serve a (Not-So-Healthy) Dessert

Chocolate Brownie Pudding
If it's hard to satisfy your sweet tooth, this chocolate brownie is sure to do the trick. A molten lava cake and brownie hybrid, this chocolatey treat is even more tasty topped with vanilla ice cream. Get the recipe.
By this point, you've nourished your guests with a hearty, healthy bread-and-soup combo, so now it's time to offer a bit of indulgence. Choose a dessert that's warm and comforting, like this chocolate brownie pudding — or one of our other 31 decadent chocolate desserts.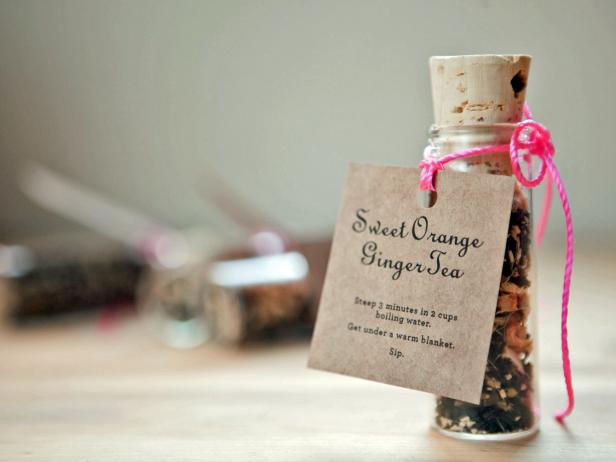 Sweet Orange Ginger Tea Party Favor
Use bulk spices to create your own custom blend of tea to give as a holiday favor.
Send guests home with a little something to lift their spirits in the days to come.
Throw together these easy, one-pot recipes for stress-free entertaining.
Decadent Chocolate Fondue
This simple dessert is full of holiday fun. Ingredients: 12 oz semisweet chocolate chips, 4 oz bittersweet chocolate, 1 cup heavy cream, 1 teaspoon vanilla extract. Directions: Place all ingredients into a heatproof ceramic or glass jar. Fill a slow cooker with about 2-3 inches of water and place the jar into the slow cooker. Cook on high for 1-2 hours until the chocolate is melted. Mix well and serve with cookies, pretzels, fruit, marshmallows or graham crackers. Entertaining a large crowd? Add more than one jar to the slow cooker.
Hearty Minestrone
Protein-packed and loaded with good-for-you veggies, this soup tastes 1,000 times better than the stuff in a can. Ingredients: (2) 14.5 oz cans diced tomatoes, 2 tablespoons tomato paste, 4 cups vegetable broth, 2 cups water, 1 bag frozen Italian vegetable mix, 1 large onion (diced), 5 cloves minced garlic, 2 teaspoons dried Italian spice, 14.5 oz can red kidney beans (drained and rinsed), 14.5 oz can great northern beans (drained and rinsed), 1.5 cups ditalini (tubular) pasta, 2.5 cups baby spinach, salt and pepper to taste. Directions: Add the diced tomatoes, tomato paste, vegetable stock, water, onions, spices and frozen vegetables in a slow cooker. Cook on low for 6-8 hours or high for 3-4 hours. Add the beans and pasta and cook for another half hour, or until pasta is tender. Stir in spinach and mix until wilted. Serve hot, topped with shredded parmesan and a side of garlic toast.
Mongolian Beef
Skip the Chinese takeout and make this one-pot flavorful dish at home. Ingredients: 2 pounds chuck roast, 1/2 cup soy sauce, 1/4 cup water, 1/2 cup dark brown sugar, 3 cloves minced garlic, 2 teaspoons minced ginger and 2 tablespoons of cornstarch. Directions: Combine beef, soy sauce, water, brown sugar, garlic and ginger in a slow cooker. Cook on low for 8-10 hours. Remove meat from slow cooker and shred. Whisk together 2 tablespoons of cornstarch with 4 tablespoons of water. Add 1/2 cup of the liquid from the slow cooker to a pan and mix in the cornstarch mixture. Cook over medium heat, whisking constantly, until thick and bubbly. Pour the thickened sauce back into the slow cooker and mix. Serve the shredded beef over rice with a spoonful of sauce and garnish with fresh green onions.
Spiced Mulled Cider
Set the holiday mood with a warm, spiced cider. Ingredients: 1 gallon unfiltered apple cider, 1 medium orange (sliced), 1.5-inch piece fresh ginger, 5 cinnamon sticks, 1 tablespoon cloves, 3-4 cardamom pods. Directions: Place all ingredients in a slow cooker and cook on low for 4 hours or until the flavors meld. Optional: serve with a shot of rum or bourbon on the side. Top with a slice of orange.
Spinach + Artichoke Dip
It's never been easier to whip up this crowd favorite. Ingredients: 1 cup shredded mozzarella cheese, 6 oz Neufchatel cheese, 1/4 cup parmesan cheese, 1 clove minced garlic, 1 jar artichoke hearts (chopped), 8 oz fresh spinach, salt and pepper to taste. Directions: Place all ingredients in a slow cooker and cook on high for 2 hours or until hot and bubbly. Serve with bread or tortilla chips.
Spiced Cranberry Chutney
Fruity, spicy and a tad savory, this cranberry chutney is a delicious addition to your holiday spread. Ingredients: 3 cups fresh cranberries, 1-1/4 cup granulated sugar, 1/2 cup orange juice, 2 tart apples (peeled, cored and chopped), 1/2 small onion (diced), 3/4 cup golden raisins, 1 cinnamon stick, 5 whole cloves. Directions: Combine all ingredients in a slow cooker. Cook on high for 3-4 hours. Serve warm, cold or at room temperature. This chutney tastes great with brie or on a turkey sandwich.
Pork Carnitas
This easy and flavorful Mexican-inspired dish is an instant crowd pleaser. Ingredients: 4 pounds pork roast, 2 teaspoons salt, 2 teaspoons chili powder, 1 teaspoon cumin, 5 cloves of garlic (minced), 1 onion diced, juice from one lime, 1/2 cup of orange juice. Directions: Place all ingredients in a slow cooker and cook on low for 8-10 hours. Shred the meat and serve on corn or flour tortillas with sour cream and cilantro.
Black Bean + Tomato Soup
With just a touch of spice, this black bean soup is hearty enough to keep a crowd full. Ingredients: (4) 15 oz cans of black beans, 2 cans of fire-roasted tomatoes, 1 large onion (chopped), 2 cloves of garlic (minced), 1 tablespoon of ground cumin, 1 vegetable bouillon cube, 1 cup of water, 1 teaspoon dried chili flakes, 1 tablespoon Worcestershire sauce, 1 teaspoon salt. Directions: Place all ingredients in a slow cooker and cook on low for 4-6 hours. Serve with sour cream, green onions or shredded cheddar cheese.
Chicken Pot Pie
Savory and filling, this crowd favorite is the perfect comfort food on a cold day. Ingredients: 2 boneless, skinless chicken breasts, 1 cup water, 1 bag frozen mixed vegetables, 1/2 teaspoon black pepper, 1/2 teaspoon salt, 1/2 teaspoon dried thyme, 1 teaspoon minced garlic, 2 chicken bouillon cubes, 4 tablespoons butter, 4 tablespoons flour, 1 cup milk. Directions: Place the chicken breasts in the bottom of the slow cooker. Add water, frozen mixed vegetables, garlic, spices and bouillon. Cook on high for 4 hours or low for 8 hours. Shred the chicken. In a sauce pan, melt 4 tablespoons of butter on medium. Whisk in the flour until blended. Add the milk and cook until thickened into gravy. Pour the gravy into the slow cooker and mix. Cook for additional 30 minutes. Serve with biscuits on the side.
Kale + Quinoa Soup
Yes, you can make a nourishing, healthy and delicious soup in a slow cooker! Ingredients: 1 cup uncooked quinoa (rinsed), (2) 14.5 oz cans petite diced tomatoes, 15 oz can great northern beans (drained and rinsed), 1 onion (diced), 3 cloves garlic (minced), 1.5 tablespoons Italian seasoning, 4 cups of vegetable broth, 1 bunch of fresh kale (stems removed and chopped), salt and pepper to taste. Directions: Place all the ingredients in a slow cooker EXCEPT for the kale. Cook on low for 7-8 hours or high for 3-4 hours. Stir in kale until wilted.